LABASAD student Elina Giglio won the Communication Arts Award for her Master's Final Project based on menstrual health.
Our student was awarded a prize in one of the most prestigious competitions in the field of illustration. She was selected in front of an international jury of distinguished designers, art directors and illustrators.
Elina Giglio studied the Máster Online en Ilustración Editorial y Publicitaria at LABASAD. She is a passionate designer and illustrator who, with her own illustrative system and guidelines, creates very cohesive works following the same main concept.
In Elina's winning project, she aimed to address the topic of menstruation in 4 full-page illustrations and in 4 spots for a news story.
In her work, she depicts some situations experienced by women during their periods, such as the over-medication of contraceptives, menstrual poverty and the community of women helping each other, due to little scientific research on the subject.
Throughout the illustrations, she uses the element of the drop of blood to symbolise the theme of menstruation and also as a narrative guide for the reader.
The cover shows a woman in a position of power, where she wants to project all her strength and will towards scientific research on menstruation. It is a figure of protest against a society where menstrual pain is relieved only by medication, with no intention of scientifically investigating the cause of the pain and remedying it in other ways.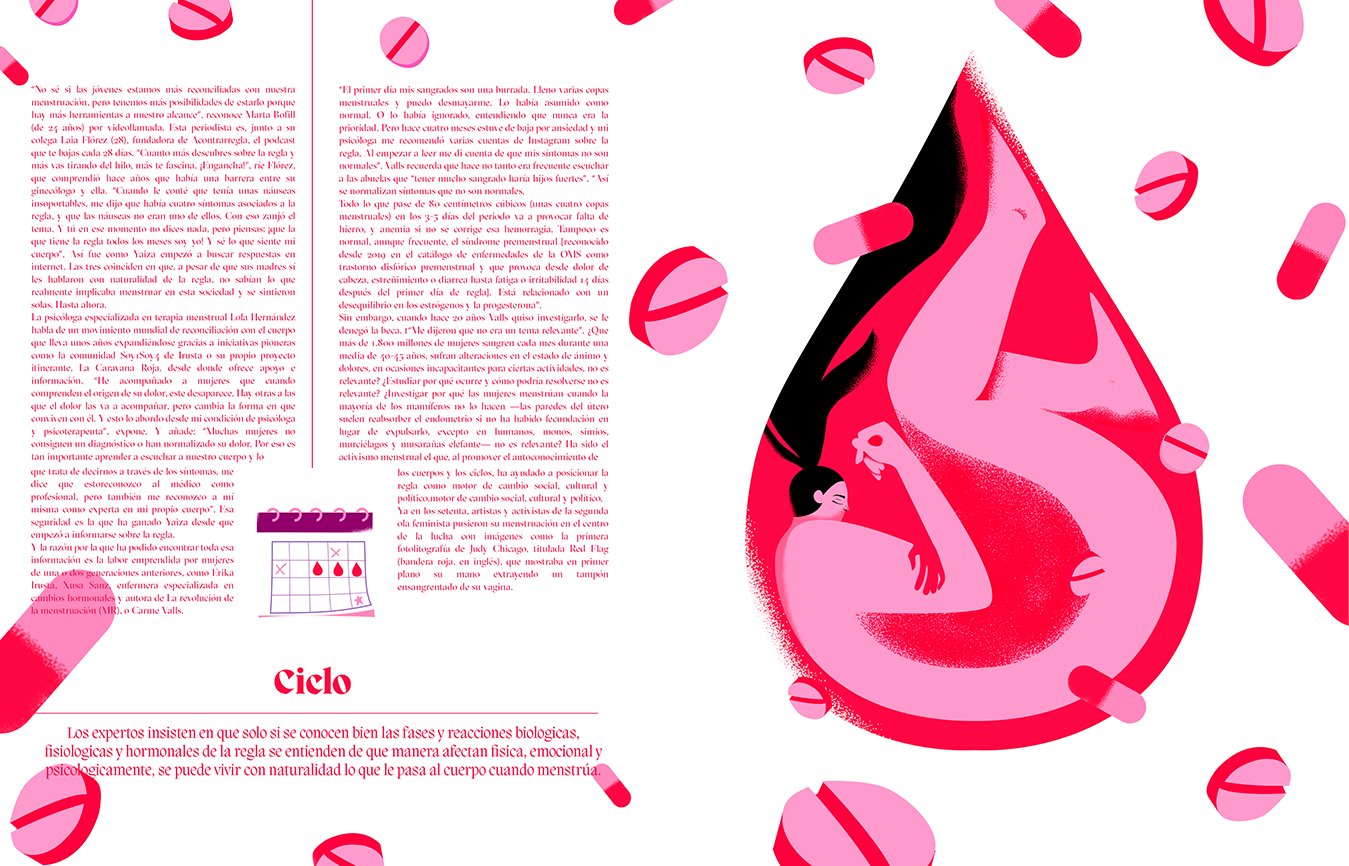 To represent the pain that women suffer, Elina depicted a woman in a fetal position inside a drop in an hourglass, representing the passing of time. All around her are pills, highlighting the only solution to any problem related to menstruation.
"I focused a lot on the emotionality of the pieces, on finding a way to convey what this subject makes me feel and to tell a story that represented me as a woman".
In her final project, Elina also addresses the existence of menstrual poverty among women. She claims that many of them do not have access to intimate hygiene products due to their high price, which is why she represents them as luxury items in the form of earrings and shiny golden sanitary towels. It's high price makes it a luxury product for those living on the poverty line.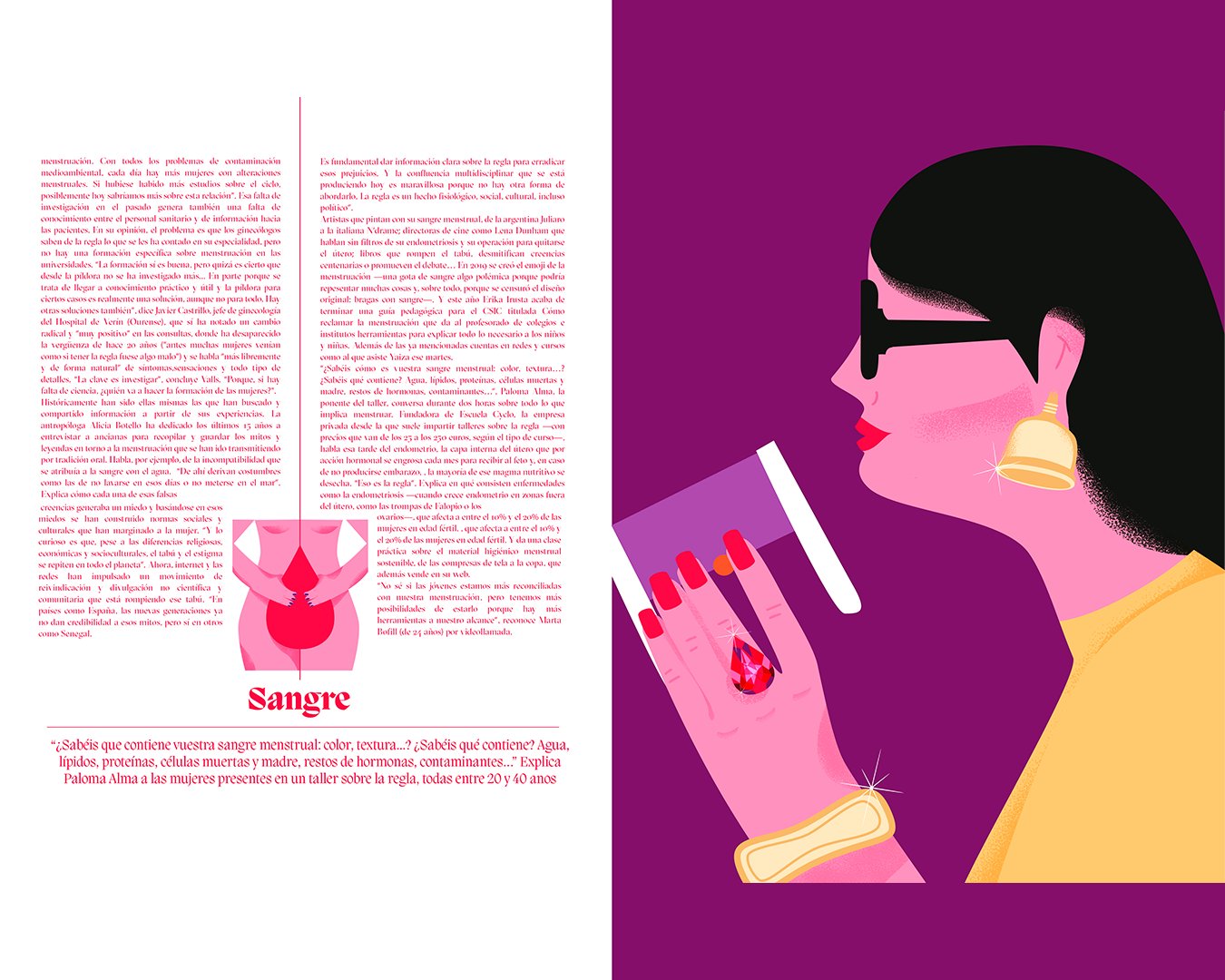 "For a long time, menstruation has been considered impure or shameful […] this stigma affects women and girls, limiting their access to menstrual education, appropriate hygiene products, and adequate medical care."
Elina already has a background and expertise in graphic design and thanks to the move to the school, it has allowed her to experiment and find her own style. She emphasises the close relationship with the Master's Directors, who are constantly available to guide them during classes and when they need assistance outside of them.
Our student explains:
"Everything was very positive, the Master's directors were always available and willing to answer questions and provide additional guidance to improve the project.

I really appreciated the fact that they didn't just praise the work, but gave valuable feedback on each of the ideas presented […] I think it's especially important when critical analysis also contributes to growth, especially in a studio environment."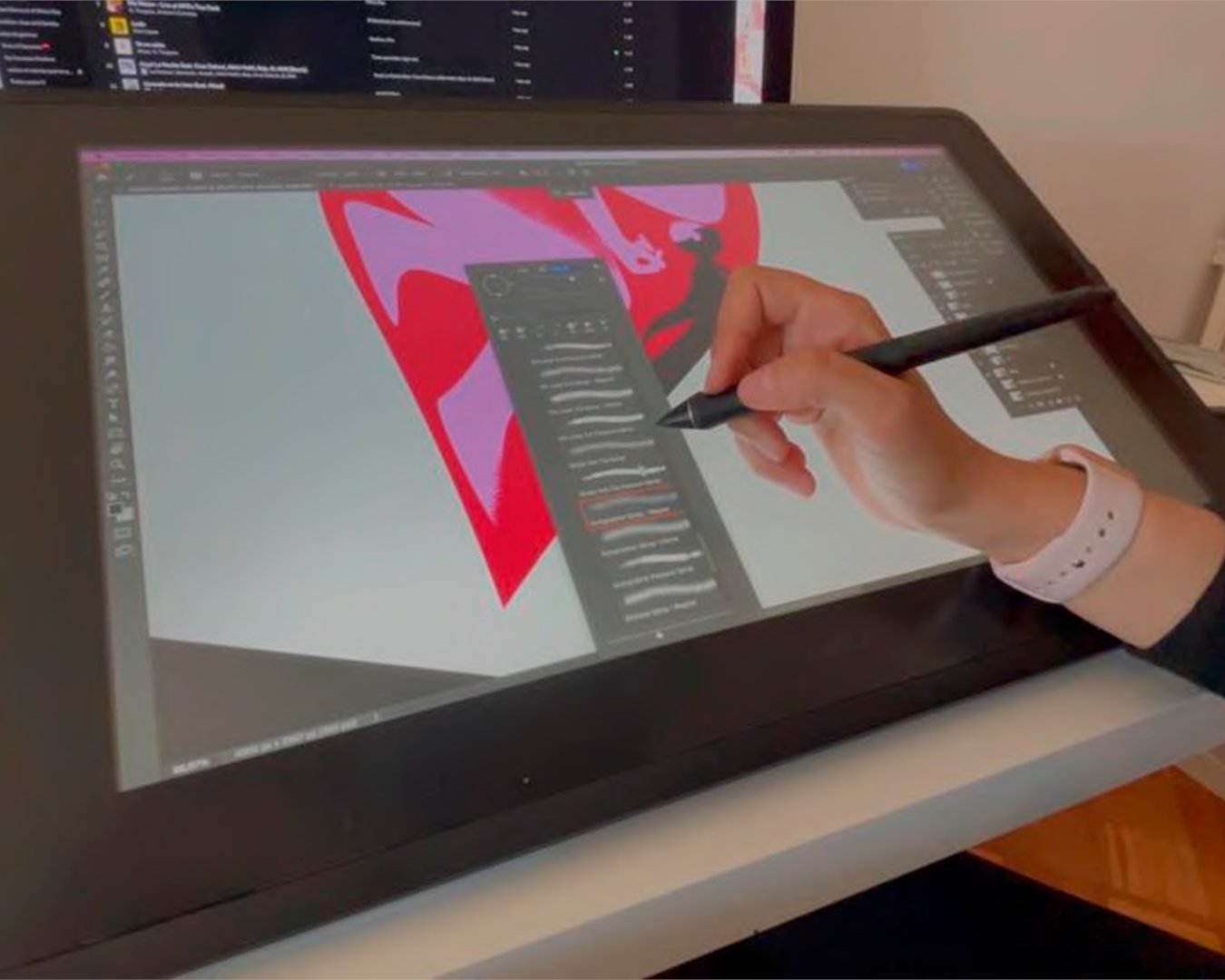 "We are no longer constrained to a single approach, but can expand and experiment with different creative areas. This openness allows us to explore new horizons and broaden our skills, which in turn enriches our career path."
Giglio tells us that she is currently involved in various art direction, design and illustration projects and hopes to continue to grow in these areas and explore the field of animation, which she discovered during the Máster Online en Ilustración Editorial y Publicitaria.
If you want to know more about LABASAD send us an email to info@labasad.com and ask for more information about all our Online Masters.