Rainbow: the wordless books created by Sarah Boris are a fun-filled homage to colour schemes and visual structures.
Sarah Boris is an artist, designer and teacher of the Online Master in Graphic and Digital Design whose work has been exhibited at the Design Museum in London, the New York Centre of Book Arts and FRAC Normandie Rouen.
Her projects range from screen-printed editions, such as her typographic work LOVE, to self-published books, such as "Global Warming Anyone" and "Le Théâtre Graphique". 
Before founding her own studio, she worked for major art and publishing organisations, was president of the D&AD jury and a judge for many other international awards, such as the Latin America Design Awards, Design Week and Le Club des Directeurs Artistique.
The London-born designer and artist has created a modular exploration that celebrates the fusion of colour and form through her project Rainbow. Consisting of a pair of wordless books, this creation gradually unfolds familiar arcs across its pages, which are exquisitely layered in paper. Sarah shares that books often mark the beginning of her artistic process: "Maybe the book will even become a form of drawing," she reflects. 
In recent years, books have also come to the fore as one of his preferred artistic mediums for exploration, and with Rainbow, he has used this platform as a starting point to embark on new creative directions. This project, known for being an unreadable book, consists of a duo of silent, textless volumes that function as an ode to colour and form. Composed of a sequence of seven symmetrical semicircles, Rainbow stands as a sensory experience that stimulates both sight and touch. Sarah further reveals that the book possesses a sculptural attribute, the movement as the pages turn giving rise to an ever-changing composition, forming a series of configurations based on semicircles and quarter circles, revealing, at the centre, the complete rainbow.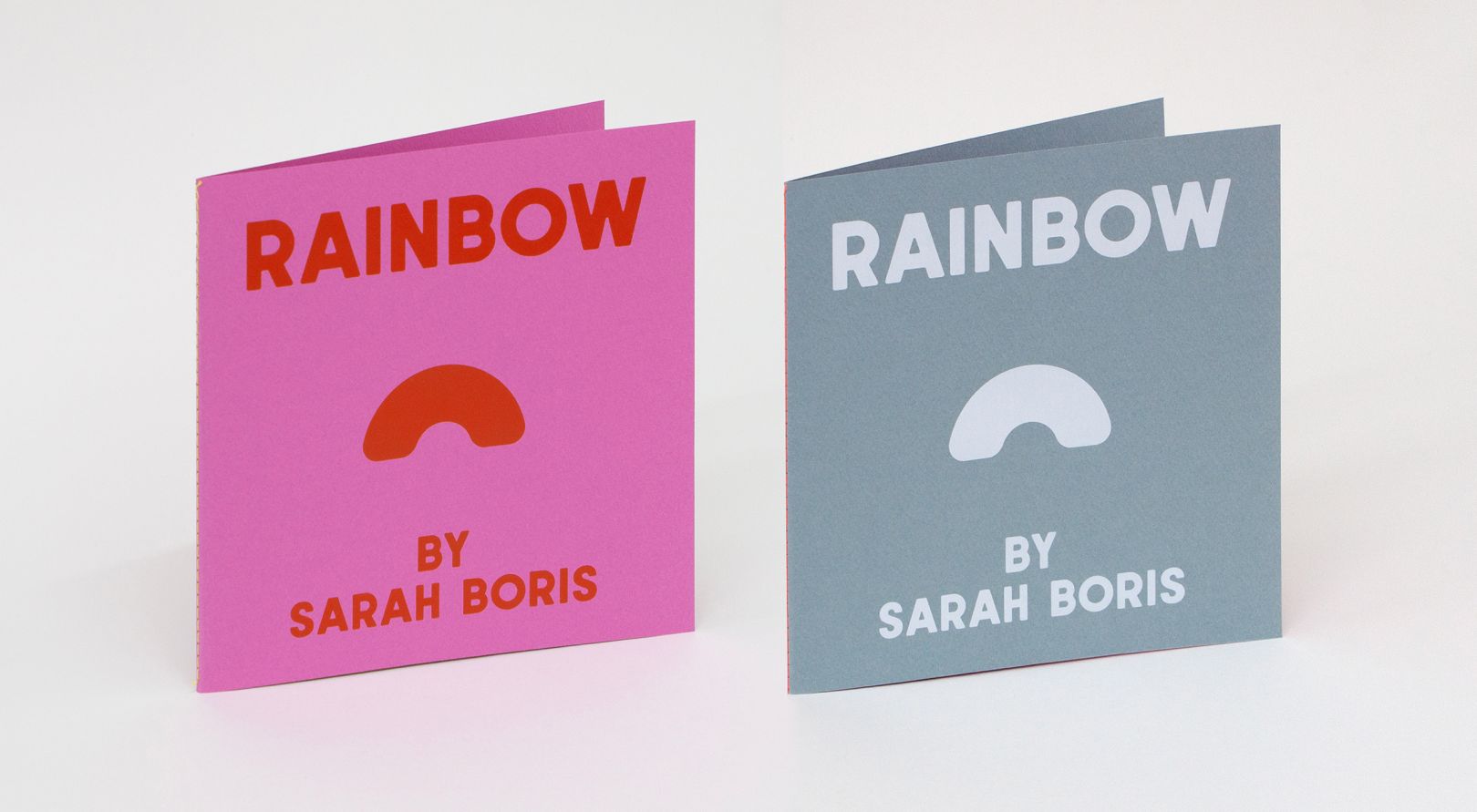 The work is broken down into Rainbow 1 and Rainbow 2. The first instalment captures bright colours inspired by nature, while the second offers a palette composed of neon and pastel tones. Sarah shares her decision-making process in relation to colour schemes, she felt the need to present two different colour schemes, which resulted in the simultaneous publication of these two volumes. Boris also immersed herself in experimentation and manipulation of dyed papers from various parts of the world. Following this process, she chose to use Japanese Takeo articles, arguing that the colour pigments are exceptional in terms of vividness and beauty.
Our teacher emphasises the importance of physically handling the book for a genuine experience, which, in her view, enhances the power of tangible art and underlines that such an experience cannot be emulated in the digital world.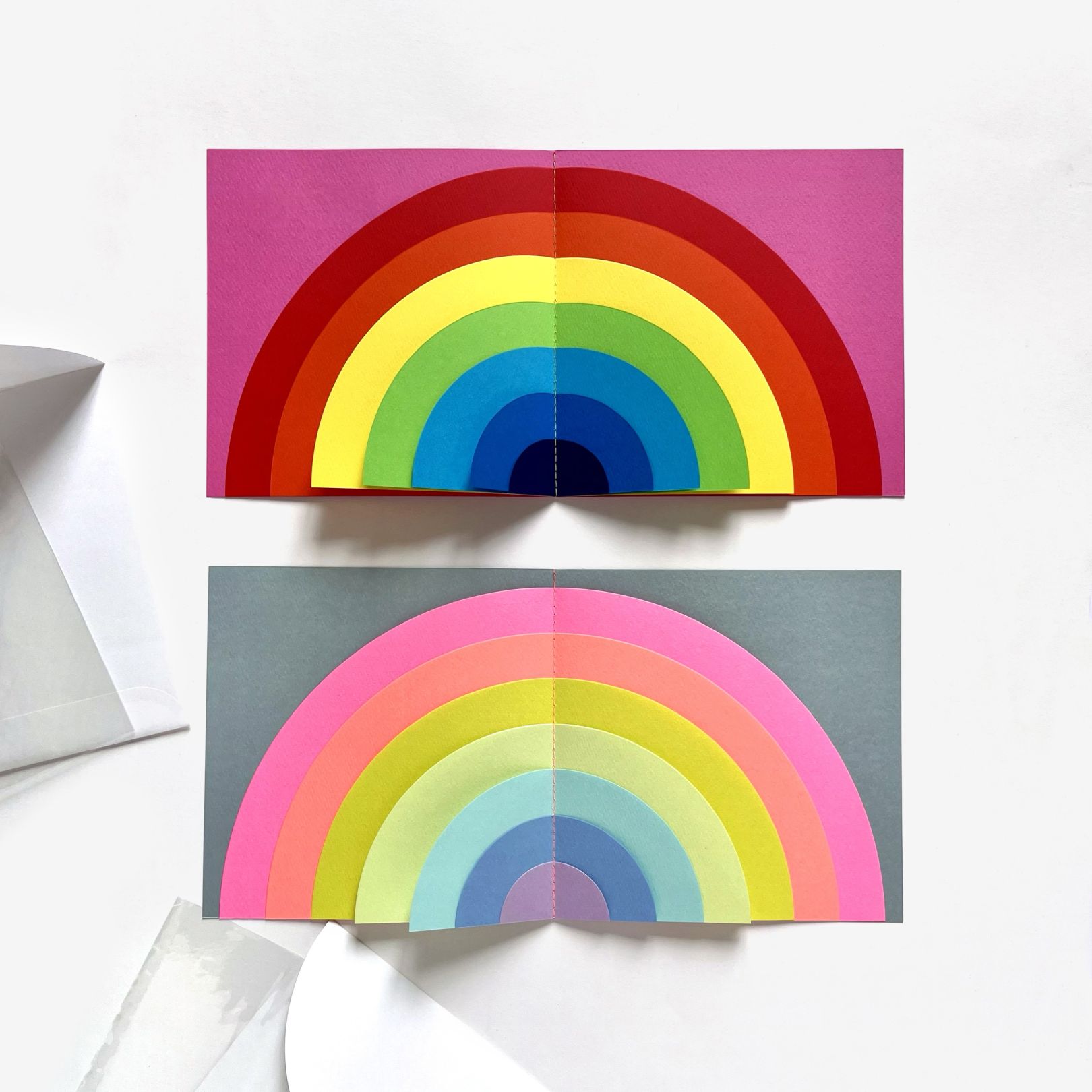 The origins of the book prototype date back to the close of 2020. Sarah had several paper samples from previous projects in her studio, which led her to handcraft the two books. At the time, the theme of the rainbow was intertwined with her work, as it became a symbol of hope during confinement in the UK. It was displayed in windows, drawn on pavements and included in gestures of thanks to health workers.
Would you like to learn together with Sarah Boris? If so, the Online Master in Graphic and Digital Design is waiting for you!
So, save the date: in November 2023, we begin! 
If you would like more information about the Online Master in Graphic and Digital Design, please send us an email to info@labasad.com and our advisors will be happy to help you.