Congratulations to Uxía Larrosa, student of the Máster Online en Motion Graphics and Ariel Menchaca, student of the Máster Online en Diseño Gráfico Avanzado for winning individual awards in the ADG-FAD Laus 2023 design awards.
Our 2 students were judged by a total of 38 prestigious experts in different disciplines such as art direction, graphic design, advertising and illustration. 
Both Uxía's and Ariel's projects competed against hundreds of other projects by students from design and advertising schools across the country and they managed to have their projects recognised and highlighted in the Laus Young Talent category.
Uxía Larrosa is a student of the Máster Online en Motion Graphics with an audiovisual piece that talks about the relationship between identity and the body. Uxía captures it in a 2D animated short film where she presents a sense of aesthetic and creative sensibility as well as her technical ability.
Our student was inspired by classical art references and from a conceptual point of view, she uses the concept of still-life to build the whole narrative structure and the composition of the objects within the shot. Uxía uses still-life to talk about the body, as it is a style which allows painters to showcase and practice their techniques as well as telling a story with their work.
Sobre el Rostro, proyect by Uxía Larrosa
Through this short film, our student wants to talk about the relationship between identity and the body, focusing on the estrangement that people suffer towards everything that has to do with physical existence in the world. Uxía was inspired by the book Half Past Ten On A Summer Night by Marguerite Duras, where time is conceptualized and criticized as a degenerative effect on the body, causing aging. 
The short film wishes to allude to a reflective state of consciousness, where we can identify with ourselves when we look at or touch ourselves and we don't recognise what we see.
Ariel Menchaca, student of the Máster Online en Diseño Gráfico Avanzado, has worked on an app called Sismo for his final Master's project, a project that focuses on improving the response capacity of Chilean citizens to natural emergencies.
Our student has used a clear and intuitive interface where the user can check in real-time for information on natural disasters such as earthquakes, tsunamis and volcanic eruptions. The application also includes a seismic alarm that emits 30 seconds before the event occurs.
Ariel's award-winning project aims to empower both citizens and civil authorities, involving them at all times in the process of detecting possible emergencies and fostering a culture of prevention to ensure the greatest possible public safety.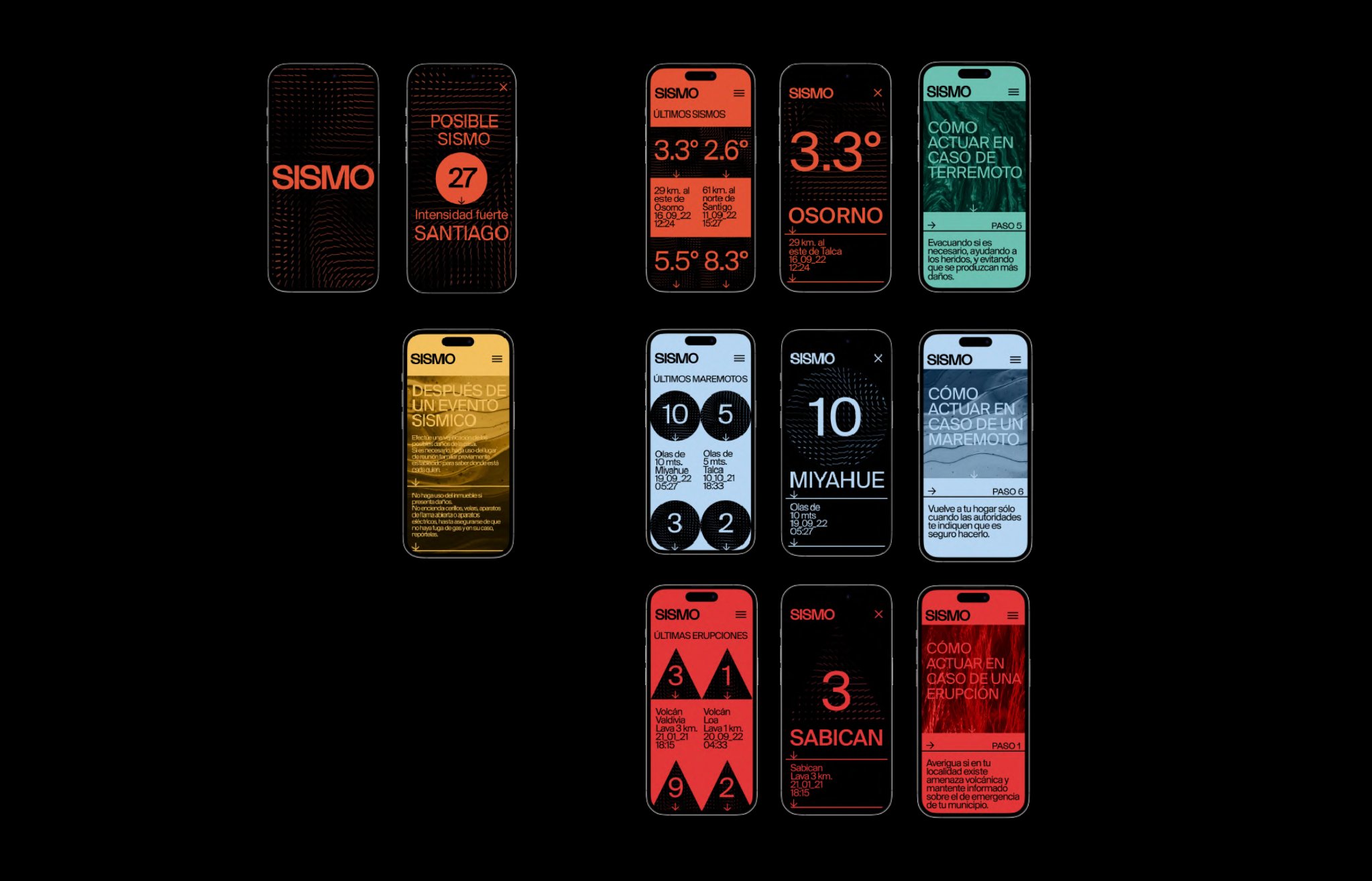 Sismo, proyect by Ariel Menchaca
Our student Ariel Menchaca wants to turn Sismo into a tool to ensure adequate emergency preparedness and response by providing Chilean citizens with accurate information about the seismic events that occur around them and to offer effective and safe solutions to deal with these situations.
For both students, this recognition by Laus has been a great moment of recognition for their professional careers, and they both feel proud and privileged to have received awards from such a prestigious institution in the design sector.
Again, our utmost congratulations! We are proud of all our students, and today, especially of you, Uxía and Ariel. 
If you want more information and want to learn how to make amazing projects like Uxía and Ariel or want to know more about the Máster Online en Motion Graphics or the Máster Online en Diseño Gráfico Avanzado of LABASAD, you can check this link or send an email to info@labasad.com and we will be happy to assist you.